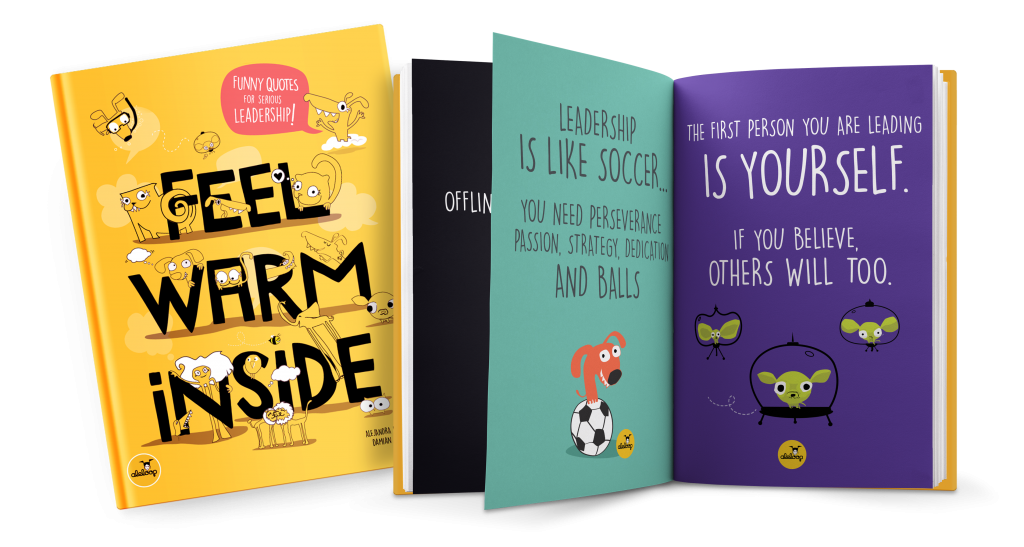 My First Book is published!!
It's a collaboration with Damian Aliberti and it's hilarious!
Feel Warm Inside
Funny Quotes for Serious Leadership is the perfect antidote to traditional boring books about leaders and leadership! Enough with complicated theories on human behavior, team culture, and personality archetypes. We don't have time for that! What we need is to stop thinking like rainy Monday and start living like sunny Friday.
This book is a funny, honest and imaginative view of life and leadership, that will help you on your very serious journey of becoming the leader you were meant to be. Doesn't matter if you are an experienced leader of a team or if it's just you and your cat. Hey, doesn't matter if you are rich, poor or undecided…this book is for you.

Believe me, this is the best handbook for life and leadership
inspiration you can buy for yourself…or your boss, friends, colleague
or frenemies. Instant gratification guaranteed!
Good attitude, humor, and the right mindset can take you up the ladder and set you apart from other leaders, moving you forward into the weird, unpredictable and ever-changing world of adulthood…and the office.
What you'll find in Feel Warm Inside is a collection of funny, motivational quotes and sayings that celebrate the irony of adulthood while at the same time delivering a thought-provoking and often hilarious dose of self-awareness and leadership inspiration.
After all, the true measure of a great leader is not their title, or the location of their office, but their ability to adapt…and to do so with a smile.
Feel Warm Inside will make you laugh, think, meditate, reassess and crave a slice of cake… and come away inspired and recommitted to be the best leader (and adult) that you can ever be.